Cody Alan Legebokoff seems like a regular Canadian kid. At 6'2 and 220 pounds, he's made for sports, and has spent much of his young life snowboarding and playing hockey in North British Columbia's Fort St. James area.
After high school, he became a mechanic at a Ford dealership in nearby Prince George. He started dating a new girlfriend, seriously enough that the then-20-year-old spent Thanksgiving 2010 with the young lady and her family.
But Cody Legebokoff allegedly had a secret life. And that wasn't just limited to the hours he spent online, where friends on social networking sites including Nexopia knew him as 1CountryBoy: He's now accused of having murdered three adult women and a 10th grade girl over 2009 and 2010.
Loren Leslie
Fifteen-year-old Loren Leslie informed her mother that she was going out for coffee with a friend before leaving their Fraser Lake residence one autumn afternoon in 2010. This friend was Cody Legebokoff. According to Loren's mother, Donna Leslie, said her daughter had become acquainted with Legebokoff online and subsequently met him at a party. 
Loren Leslie, 15, was found dead on a remote logging road just off Highway 27 near Vanderhoof, B.C., in November 2010.
Legebokoff was arrested after an RCMP officer stopped him after he was spotted turning onto the highway from that unused logging road. The officer reported seeing a blood smear on Legebokoff's face and legs, and there was a pool of blood in the truck.
A conservation officer, suspecting poaching, went up the logging road to investigate and found Leslie's body. Investigators determined she had died only several hours before Legebokoff had been arrested. Once they'd discovered Loren Leslie, there were other bodies that investigators would soon connect to the case.
The additional three victims that prosecutors aim to connect with Cody Legebokoff may not elicit as much public sympathy as the teenage girl initially discovered by the Mounties. According to reports from the Canadian press, Jill Stuchenko, Cynthia Maas, and Natasha Montgomery were allegedly involved in sex work.
Friends and family reported Stuchenko missing October 22, 2009. Five days later she turned up dead in a gravel pit near Otway Road, at the edge of Prince George.
Cynthia Maas, a 35-year-old single mother, had a story that resembled Stuchenko's. She was reported missing by her friends on September 23, 2010. Her body was discovered on October 9, 2010, along the banks of the Fraser River in LC Gunn Park. It is worth noting that this park was reportedly frequented by sex workers.
Natasha Montgomery, a 23-year-old woman, was reported as missing on the same day as Maas. 
BODY OF 2ND VICTIM NEVER FOUND
Natasha Montgomery, 23, originally from Quesnel, was reported missing in August 2010. She had previously been involved in figure skating and baseball, and she was also a young mother and allegedly engaged in sex work. After not hearing from Natasha for several weeks, her family residing in Quesnel contacted the Royal Canadian Mounted Police to report her disappearance. Her body has not been found, but Crown counsel said in court that several items, including shirts, shorts, bedsheets, a comforter and an axe found in Legebokoff`s apartment tested positive for her DNA.
Cynthia Maas, 35, went missing in September 2010. Her remains were found in L.C. Gunn Park, in a remote area of Prince George, the following month. Maas says that although her sister and Legebokoff's two adult victims were sex trade workers, that fact should not be used to label or somehow dismiss them.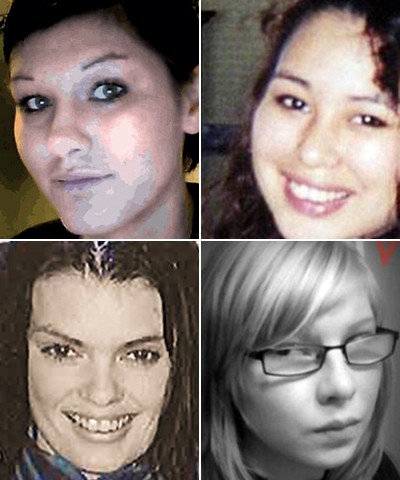 Cody did not appear to harbor any animosity towards women, as evidenced by his relationships and living arrangements at the time of his arrest. Despite being involved with a woman studying at the College of New Caledonia, he was also residing with three female friends in Prince George.
Authorities immediately charged Cory Legebokoff with first-degree murder after finding Loren Leslie's body. The three additional murder charges came on October 17, 2011. He's being held at the Prince George Regional Correctional Centre.
A jury in Prince George, B.C., later found Cody Alan Legebokoff guilty on four counts of first-degree murder. The 24-year-old was charged in the slayings of Loren Donn Leslie, Jill Stacey Stuchenko, Cynthia Frances Maas and Natasha Lynn Montgomery, who died in 2009 and 2010.
Legebokoff had pleaded guilty to four counts of second-degree murder in B.C. Supreme Court, testifying that he was present at the deaths of the three women and the teenage girl, but that he did not commit the murders.
That plea was not accepted by the court.
Alleged BC Serial Killer's Arrest Sparks Anger (2011, October 18). CBC News, http://www.cbc.ca/news/canada/british-columbia/story/2011/10/18/bc-legebokoff-reaction-prince-george.html
Pelisek, Christine (2011, October 23). A Teen Serial Killer in Canada? Daily Beast, http://www.thedailybeast.com/articles/2011/10/23/cody-legebokoff-accused-as-canadian-serial-killer-who-preyed-on-women.html
(Sep 11, 2014) Cody Legebokoff Guilty Of 4 Counts Of 1st Degree Murder CBC News https://www.cbc.ca/news/canada/british-columbia/cody-legebokoff-guilty-of-4-counts-of-1st-degree-murder-1.2762370